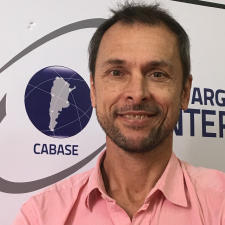 Hernan Seoane
CABASE
Gerente General y Tesorero de La Cámara Argentina de Internet – CABASE (IXP)
Graduado como Contador Público – Universidad de Buenos Aires (UBA), posee un MBA – MAESTRIA EN ADMINISTRACION DE NEGOCIOS de la Universidad de San Francisco (USF)  – EEUU, especializada en Marketing,
Anteriormente se desarrolló como el Country Manager de Interdotnet Argentina e Interdotnet Uruguay
Co Fundador de SSDNET, empresa pionera en servicios de Internet en Argentina.
Director de Marketing para DBA Software Inc. Empresa en Alameda, California, EEUU
Fue docente de Tecnología de la Información en la Universidad de Buenos Aires,
————————————————————————————————————————-
General Manager and Treasurer of Argentine Internet Association – CABASE IXP
Graduated as a Certified Public Accountant from the University of Buenos Aires (UBA), and holds an MBA – Master in Business Administration from University of San Francisco (USF), USA.
Previously worked as Country Manager for Interdotnet Argentina and Interdotnet Uruguay.
Co-founder of SSDNET, pioneering company in Internet services in Argentina.
Marketing Director for DBA Software Inc. Business in Alameda, California USA.
Professor of Information Technology in the University of Buenos Aires.